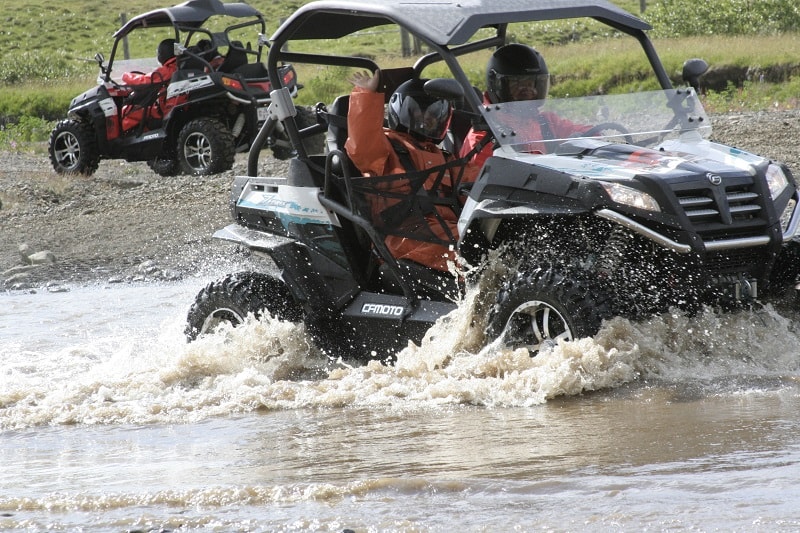 Full day tour with 1 hr Buggy
The Golden circle is one of the most popular routes in Iceland and well worth visiting. The sights on this tour include Thingvellir national park where the foundation of the Icelandic parliament began in 930 AD. It is a site of geological wonders, as it lies in a rift valley that marks the crest of the Mid-Atlantic ridge. The rift is clearly visible and the movement of the tectonic plates pulls apart the island about 2,5 cm every year. Thingvellir is a UNESCO World Heritage Site.
The mighty Geysir is a dormant hot spring but Strokkur erupts about every 4-10 minutes, sprouting the hot water 15 to 20 meters high and sometime up to 40 meters.
Gullfoss, or the "Golden falls", comes from the glacier river Hvitá. As one first approaches the falls, the crevice is obscured from view so that it appears that a mighty river simply vanishes into the earth.
Once we have finished the Golden circle sightseeing, we stop for the action part of the day – the 1 hour Buggy tour. You get the opportunity to get the rally feeling and your adrenaline pumping, as you drive gravel roads and tracks, not accessible by regular cars. What better way to add diversity to your day? The location of the Buggy tour depends on the season and conditions each day. We recommend you bring extra clothes, in case you get wet and dirty on the Buggy tour!
Minimum: 2 Passengers
Pick up location: Reykjavik*
Operation: February – October
Duration: up to 10 hrs.
Included: Guided sightseeing tour, coach transfer, 1 hr. Buggy tour (2 in each Buggy)
Helmets, gloves, balaclava and water resistant overalls
Pick up / drop off in Reykjavik
Weight limit: Maximum weight per passenger/driver; 120 kg or 264 lbs. Maximum combined weight; 220 kg or 485 lbs. For more information, please look at our FAQ page.
Good to have: waterproof hiking shoes, something warm under the overall, your camera
Good to know: there will be stops made on the way for you to switch drivers
stops are made where you can buy something to eat
you need a valid driving license to drive the buggy
*Coaches and super jeeps are forbidden to access certain areas in the city center, so we may have to ask you to walk a short distance from your hotel.