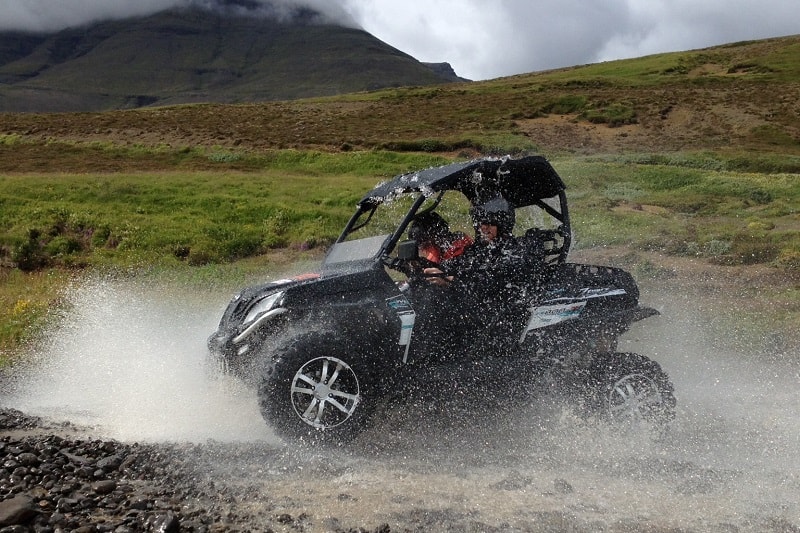 Full day tour with 1 hr Buggy
Take your Golden Circle tour the next level and do it in a super jeep & buggy combo! The sights of the Golden circle include Thingvellir national park where the original parliament, Althingi, was founded. The national park lies in a rift valley which marks the crest of the Mid-Atlantic ridge. The rift is clearly visible and the movement of the tectonic plates pulls the island apart about 2,5 cm every year. The mighty Geysir is a dormant hot spring, and the one who gave all geysers their name. His little brother, Strokkur, erupts about every 4-8 minutes, sprouting the hot water 15 to 20 meters high and sometime up to 40 meters. Gullfoss, or the "Golden falls", originates in the glacier river Hvítá. You can clearly witness the majestic power of the glacier rivers, in this three-tiered flowing waterfall.
Somewhere along the way, we will stop for the 1 hr Buggy ride, where you have the opportunity to get the rally feeling and the adrenaline pumping. Sitting side by side with your buddy, we will drive dirt roads and tracks you can't get by regular cars; action not to be missed. The location of the Buggy tour depends on the season and conditions each day. We recommend you bring extra clothes, in case you get wet and dirty on the Buggy tour!
Our Buggies are equipped with 4-point harnesses for your safety and automatic transmission for driving ease. All you need is a spirit for adventure, and a valid driving license for the driver.
Minimum: 2 Passengers
Pick up time: 08:30 to 09:00
Pick up location: Hotels and guesthouses in the Reykjavík area. Please check out www.busstop.is for info on pick up locations in the city center.
Operation: March – October
Duration: up to 10 hrs.
Included: Guided sight seeing tour, super jeep transfer, 1 hr Buggy tour (2 in each Buggy)
Helmets, gloves, balaclava and water resistant overalls
Pick up / drop off in Reykjavik
Weight limit: Maximum weight per passenger/driver; 120 kg or 264 lbs. Maximum combined weight; 220 kg or 485 lbs. For more information, please look at our FAQ page.
Good to have: waterproof hiking shoes, something warm under the overall, your camera
Good to know: there will be stops made on the way for you to switch drivers
stops are made where you can buy something to eat
you need a valid driving license to drive the buggy
Transportation: super jeep
Want to experience this as a private tour?
Click the button below to contact us and we will help you make your dream come true.
[qbutton size="small" target="_self" font_weight="" text="BOOK AS PRIVATE" link="mailto:info@buggyadventures.is"]